Me and my other "Kindred Sisters" are pleased to announce the addition of three new vendor artists to the KSGP Shoppe!
Won't you join us in extending a big warm welcome to Annie of blur.baby - Glitter Your World (a/k/a Allegheny Annie's), Sam Johnson of Gollywobbles, and Susie Dele. We are thrilled and honored to have you with us!
Annie and Sam have their Shoppe open now ~ here's a preview for you (click on the images to enlarge) ...
...and Susie? Coming Soon! You will not want to miss, among other things, the amazing creations she dreams up using new and recycled wools, executed with impeccable sewing skills and lovely details.
With mid-month rolling around, our artists are changing up their inventory for our themed "A Thankful Gathering" array of offerings. We may have some stragglers, so be sure to visit often before November 1st! Beginning November 1st, the Shoppe will be transformed into a Winter Wonderland of new items for your holiday decorating pleasure, so don't forget to Bookmark us.
To visit NOW, just click on the
KSGP Shoppe Button
at the very top right hand column of this page.
If you are an artist interested in selling your hand made items on the Kindred Sisters Gathering Post Web Site, please visit the link below for further details: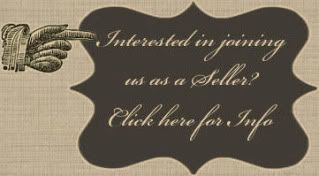 'Til next time,
~*Mary*~